Before starting my review, let me clear what JustAnswer is. Just Answer is an online service that helps you to make your connection with experts in different fields. You can ask additional questions and can get a response from the professional within seconds. In this JustAnswer review, I will share my personal experience and detailed research on their service.
JustAnswer is pretty famous due to their professionalism, helping more than 10 million people like us. If you want to ask a question from a professional in a few seconds, then you should grow through it. I first went through this website when my pet cat had surgery, and I want some tips and others answers to my queries. I have recently signed up for this website again as I want to see what you can expect.
Before you signed up, here are some details of the service you will receive and the price you have to pay.
What Is JustAnswer?
Just Answer is an online service that connects you with professionals of various fields to answer the questions in your mind. Once you get connected with an expert, you can ask your question to that professional, and they will explain the Answer to your query. You can also speak to any professional on the phone for an additional fee.
You can find the following different verified experts in the following field. 
Doctors, nurses
Lawyers
Tax, finance
Mechanics
Vets
Computers, software
Electronics, phones
Electricians, plumbers
Home improvement
Appraisers
Besides, there is a general category covering entertainment, jobs, etiquette, dream interpretation, genealogy, relationship, clock repair, and many more. 
Visit the official website of JustAnswer
How Does JustAnswer Work?
You can sign up for JustAnswer and can get the answers to your questions from a verified expert. You can sign up for the JustAnswer to get your answers for only 0.10$ for a whole week trial.
How To Ask A Question On Justanswer?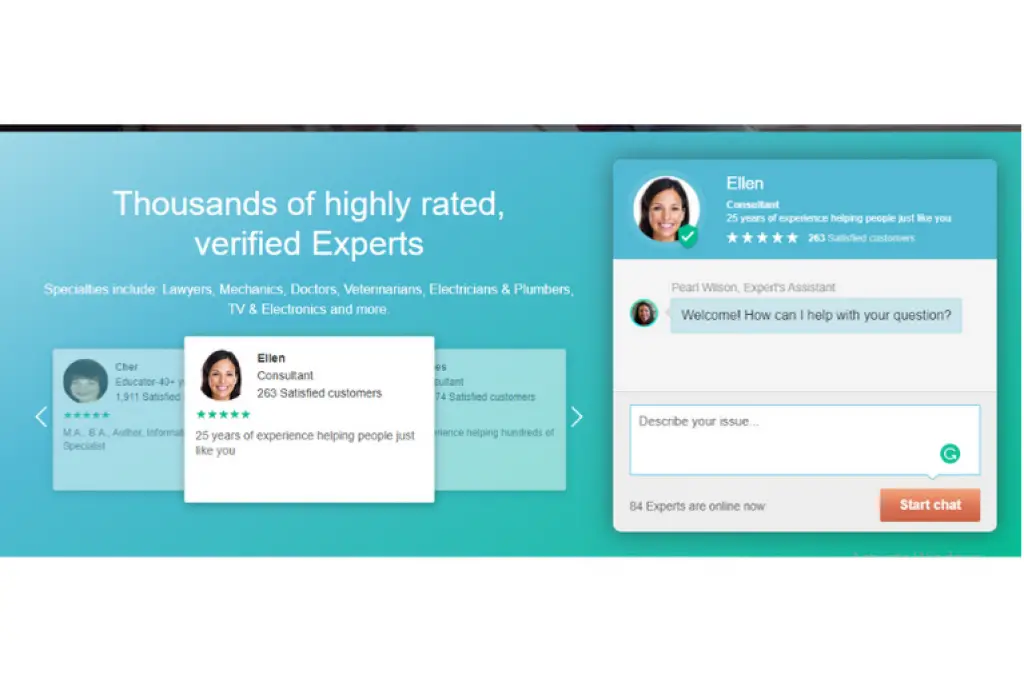 If you sign up for the just Answer, you can select the professional you want to discuss your matter with. In my case, I want to ask a few questions about my cat; therefore, I was directed to a professional veterinarian who replied to all my queries and confusions descriptively and professionally. 
I got a quick response from them, and I was very satisfied after the discussion. The thing I like most about the question-answer service is that you can send pictures to them. By sending the picture of my kitty, it becomes easy for me to explain the situation.
The Expert Selection Process
If you think that either you should trust them or not, then my answer is that you should. According to Just Answer, all of their experts have acknowledged credentials such as doctors or lawyers license and their experience year in their specialty. 
When an expert applies to JustAnswer, a third party service verifies the credentials before approving him. After the approval, experts' get clients reviews and ratings, and you can see these ratings and reviews before contacting any expert. 
The advisory board sets some standards, and when an expert fails to remove them, they are automatically removed. It proves that Just answering gives priority to client's satisfaction. 
Select the expert and ask your question now
How Much Does JustAnswer Cost?
The monthly membership is different from one client to another and depends upon the type of questions you want to ask. If you wish to answer a detailed response urgently, it may cost you a little more than the more straightforward problems. 
If you are a little doubtful about their service, then you can try a one-week free trial with only $0.10 for the whole week. Furthermore, if you are not satisfied with their results, they give you a 100% money-back guarantee without any questions. In case you are not satisfied, you can cancel this subscription any time you want.
JustAnswer Monthly Membership Fees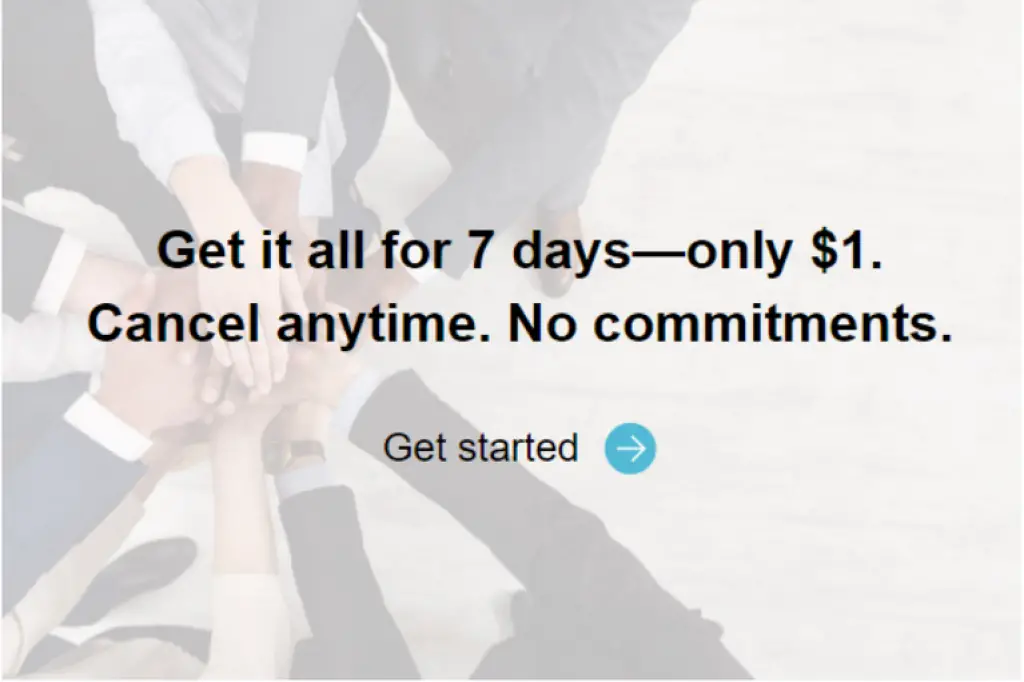 The monthly membership fees depend on the question you want to ask, whether it is urgent or a detailed one or a simple one. In the trial question, you have to pay 0.10$ for the whole week and ask endless questions. FOR AN ENTIRE WEEK, $O.10 to ask endless questions with experts is like a free offer to me. And I was delighted with their detailed answers. 
After a week's trial, I was so satisfied that I continued with the monthly subscription, and it was only $29 for a month. Every time in our family we have to go to the experts and pay a high fee for just asking a simple solution and an answer to my question. But with the Just Answer service, I can ask anything at home from an expert by saving my time and money both things. 
According to customer services representatives, questions other than medical and law lead to membership even less than $20 for a whole month. When it comes to JustAnswer's pricing, it is safe to say that you will never be charged with an amount you are not aware of. 
When I created my account, they made it clear that I only have to pay $0.10 for a week trial and $29 for a month. JustAnswer online service makes you aware before your weekly practice is going to end. 
Click here to get the full benefits of JustAnswer and get rid of your problems.
How To Cancel JustAnswer
After the trial of seven days, you have to pay a small fee of $29 for a whole month. You can cancel this trial anytime you want. If you have a signup every month, you can cancel your subscription at any time. According to the website, you can cancel the subscription in a few simple steps. 
ON the right corner of your screen, click on "My Account."
Click on the Membership option.
Then you have to select "Cancel My Membership."
If you cannot cancel your membership online, you can contact their help center, and the representative will assist you in canceling your membership. 
Pros And Cons Of JustAnswer
Everything has pros and cons, and in my Just answer review, I find it essential to tell my readers everything necessary before they sign up. I am sharing its pros and Cons according to my personal experience and detailed research.
The Features You Would Love About JustAnswer
12000+ Verified Experts
Experts are verified after an 8-step of the expert quality process that includes the skill tests, license verification, and reviews. 
Every Question Will Save You Money
When you compare this service with personal appointments, you will find the difference between the money you spent. It is challenging to take appointments and especially to afford expert fees every time you want to ask something.
Service That Is Tailored To You
You can get help on any topic or field at any time you want. It is the best service available 24/7.
Save Your Valuable Time At Home.
Now you don't have to waste your time in the waiting room or drive across your town to meet the expert. Furthermore, you can ask your question from experienced, verified, and professional experts within a minute.
Visit the Official Website and ask your question Now
Is JustAnswer Legit?
After detailed research for my readers, I have written this JustAnswer review to clear all your confusions, and I can say that Just Answer is 100% legit. It is famous for its work since 2006 and has an extraordinary and high A+ rating from BBB.
They have more than 11000 experts verified and have over ten million people who are satisfied with their answers. More than 90 percent of its experts are satisfied with its Answer. According to the trust pilot and BBB, this company has more than 13000 reviews with excellent ratings. 
In this fast and advanced era, we always need to have an expert suggestion, and it is the best way to find your answers. 
Just Answer Review And Ratings
JustAnswer BBB Review And Ratings
During my detailed research, I reached the Better Business Bureau to see their thoughts about JustAnswer. According to my expectation, they give an A+ rating on the JustAnswer BBB profile. At some places, I find that there were some questions related to billings, and I was satisfied to see JustAnswer's responses. 
Trustpilot's Justanswer Review
When I go through the Trustpilot, they give JustAnswer a 4.7-star rating based on the clients' 18,000 reviews. Their reviews show that 
88% of clients have excellent experience
7% of clients have great experience
2% of clients think it was average 
Only 3% of clients take it as bad.
There are tons of excellent reviews about JustAnswer question-answer service, and I find a few reviews that tell their problems about issues in canceling their membership. Still, in recent years there is no such issue or review.
Consumer Affairs JustAnswer Review And Ratings
When you go through the consumer affairs review, you will find thousands of positive JustAnswer reviews and positive ratings. 
Click here to experience the Justanswer 
John Age 22
Hi, John here. I love my pet dog and got worried about his health very much. In my stress full time, where it would be difficult for me to go through hours of waiting in the clinic to get the necessary information, I take advantage of JustAnswer. I appreciate this type of service. Dr. Perry helps me a lot, and his useful tips work on the pet. Thank you.
AlinaAge 41
It's incredible how I get the answers to all my complex questions in a while. I asked about complicated problems related to business and accountancy, but the solutions were not only professional but easy to digest. I loved their service.
David 46
I tried their one-week trial and got professional answers to my hundred of questions. Within a few minutes, I get my response in a professional way. I am so satisfied with this one-week trial that I am going for it permanently because we have to go through many problems, confusions, and need an expert suggestion in everyday life. But it becomes complicated to afford the fees of different experts. JustAnswer is undoubtedly the best solution to these problems. Highly recommended!
Final Thought – JustAnswer Unbiased Review
If you are in a problem or want a suggestion for your question, then JustAnswer is undoubtedly the best solution for all your problems. You can get answers about all your concerns, and whether it is about health or a law case, relationship advice, or house designing, you can get professional help.
Click here and Signup for the JustAnswer
Tell us about your experience through Just Answer.
FAQ
Is JustAnswer A Legitimate Site?
Yes, JustAnswer is a 100% legitimate site where you can answer your every question. There are thousands of experts helping to solve the problems of their clients. The experts are approved after verifying their credentials; thus, there is not a single chance of scam.
Can I Get Answer To My Question Related To Both Law And Medical?
Absolutely, you can get answers to all your questions in medical and law and in several different fields. There are thousands of experts who answer your questions according to and solve your problem within seconds.
How Can I Explain My Question To The Expert? 
The thing I love about JustAnswer is the availability of the option where I can send a picture. Because in many cases, it is essential to show the visual to get your Answer in a better way. You can also talk to the expert on call by paying an additional call fee. 
What Is The JustAnswer App?
JustAnswer is a platform where you can get the answers to your questions with the help of experts. More than 12,000+ experts are verified and give answers to your questions and solve your queries. After every 9 seconds, a professional gives the Answer to a problem.
If you find this article informative please share this article with your friends and relatives. Your every share will support Fitlifeplus.
LATEST POSTS